About
This blog
Buried Signals is an outlet for technical and creative experiments in visual storytelling. It's a wonderful excuse to explore new ideas while justifying continuous research in literature and science. I write about anything orbiting my cognitive space: investigations into geopolitics, philosophy, physics or fiction.
Feel free to start a conversation anytime, I'm on Telegram and Twitter.
Journalism manifesto
I'm an advocate of Gonzo journalism as a framework to abstain from false claims of objectivity. Also trying to keep my identity small (inspired by Kevin Simler's manifesto).
Determined to conduct my work within the tenets of Jim Lehrer's journalism principles. My personal opinions are clearly labeled, fiction and philosophy essays obviously reflect my own views.
My hope is that someday these essays might contribute in the struggle against disinformation, in the meantime I take great pleasure in the daily pursuit of truth and practicing the craft.
A self-imposed manifesto :
Communicate in a clear and concise manner
Seek to understand the opposing viewpoint and give readers access to both perspectives
Fight stereotypes, fear-mongering and bipartisan polarisation
Controversy for it's own sake is entertainment
My writing should and can be challenged
Collaborate with experts, identify uncertainty when it exists
Curate theoretical or operational solutions to the problem
Sources are verified and always accessible
Privacy matters, analytics and cookies on this site are non-invasive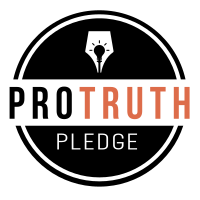 I signed the
Pro-Truth Pledge:
please hold me accountable.